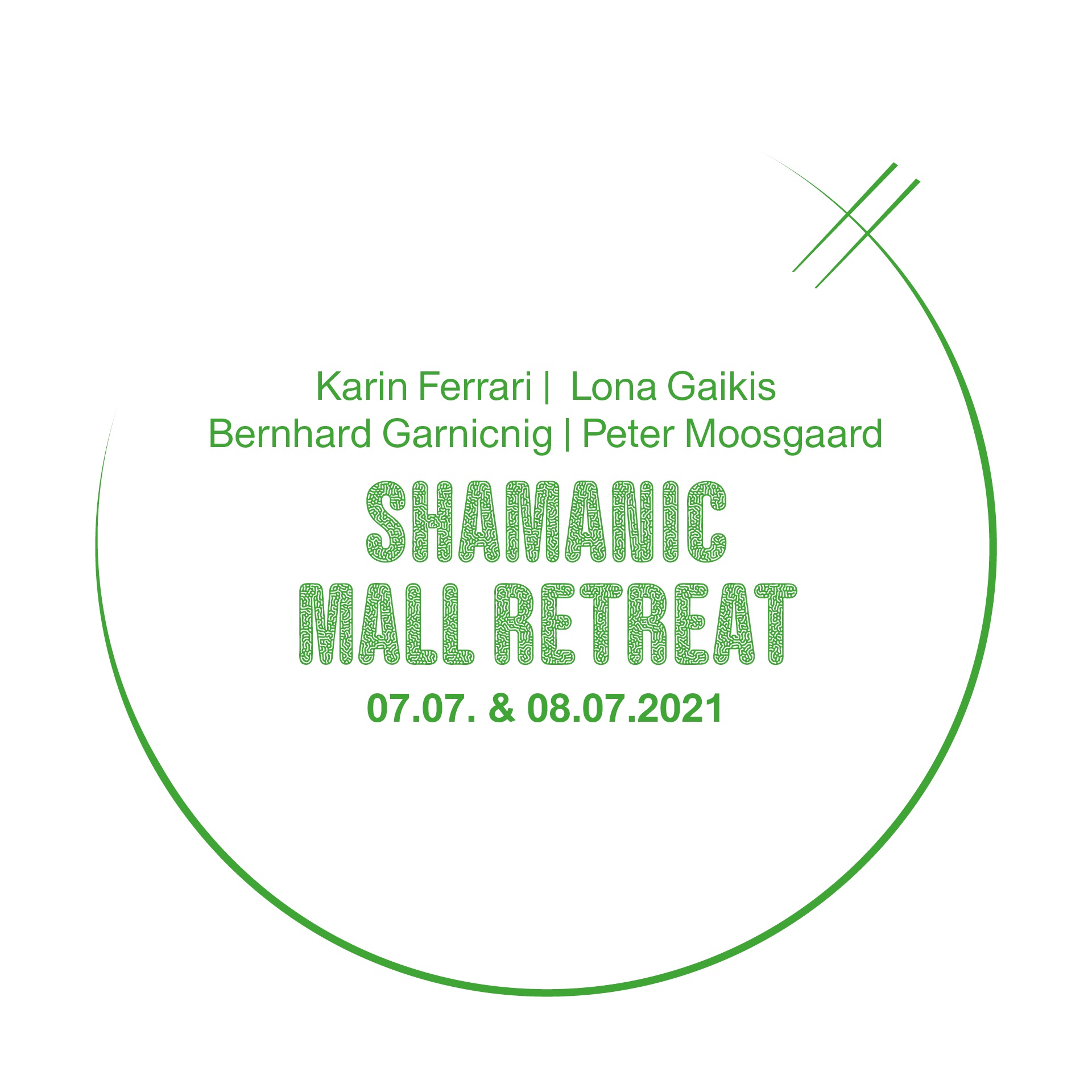 SHAMANIC MALL RETREAT
Karin Ferrari ✭ Lona Gaikis ✭ Bernard Garnicnig ✭ Peter Moosgaard
Wednesday, 07.07.21, 14.00 -17.00
Thursday, 08.07.21, 16.00 – 19.00
SILLPARK, Museumstraße 38, Innsbruck
Registration via thenewholy999@gmail.com needed.
Further Informatioen www.facebook.com/events/359628402344366
OPENING
THE NEW HOLY
Thursday, 08.07.21, 18.00
MEETING POINT: Main entrance SILLPARK followed by a ride to THE NEW HOLY F*CK by Karin Ferrari.
Woodland near Rum 47°17'47.8″ N 11°26'12.7 E
To participate, registration with telephone number via thenewholy999@gmail.com is required. After registration, all further information will be shared via a Whats App group. Individual retreat sessions can be attended, but also the whole package. When registering, please only provide the day(s) of participation and phone number.
✭✭✭✭✭✭✭✭✭
✭✭DAY 1✭✭
Wednesday, 07.07.2021 14.00 – 17.00
KARIN FERRARI
Mall Dream Walk. Delve into the Magic and Mystery of Our Spirit Logo Totems!
BERNHARD GARNICNIG
Pop Chakra Exploration. A Guided Group Meditation
LONA GAIKIS
Shopping Mall Spa: Neo-Shamanic Theories and Practices
PETER MOOSGARD
Supermarket of the Dead. Papieropfer des chinesischen Qingming-Festes basteln
✭✭TAG 2✭✭
Donnerstag, 08.07.2021 16.00 – 19.00
BERNHARD GARNICNIG
Mall Muzak Soundwalk
PETER MOOSGARD
A Vision Guide. Shopping als Kuration und künstlerische Praxis
LONA GAIKIS
The Ecstasy of Sillpark. How Mall Rituals Work.
KARIN FERRARI
Applied Demonology Workshop. Create Your Own DIY Magic Artefact!
✭✭✭✭✭✭✭✭✭
The Mall Retreat takes place within the framework of Kunst im Öffentlichen Raum Tirol 2021 and is part of Karin Ferrari's project THE NEW HOLY. Kunst im Öffentlichen Raum Tirol is a funding program of the province of Tyrol, which is implemented in collaboration with the Tyrolean Artists´Association.
Thanks to
SILLPARK INNSBRUCK